Videos, the strongest method of communication. It is the best way to publish international material. Audio-visual translation is essential when you are trying to break into the international market
According to a study carried out by Cisco, video will represent 82% of internet traffic in 2020, that is to say, next year! Those numbers could make your head spin! every day 1.5 billion internet users spend, on average, 1 hour watching YouTube videos, every minute, 400 hours of video is uploaded!
If many businesses are starting to use video today (63% according to a study by Wyzowl), it's for good reason. Reaching new clients springs to mind, but there are many others, as we will see later.
Audio-visual translation as an investment
Videos and their translations will boost your sales
Let's start with the most important thing. Adding a product demonstration video to your website increases the number of prospective clients by 80%. For example, internet users are more likely to provide their details if the presentation is done by video.
And even better, videos lead to an increase in sales. According to several studies carried out, demonstration videos lead to a 74% climb in sales. This is because videos contain more emotion, because they require the active use of the human sense, visual and audio. It has been proven that emotion play a crucial role in decision-making.
By using audio-visual translation you are opening yourself up to the international market!
Audio-visual translation yields an excellent return on your investment
Increasing sales is great for business.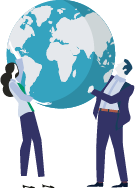 But how much should you put aside for video production? The good news is that the cost for video production has in the last few years. You don't need any sophisticated material to get started. Majority of smartphones can record a video that is usually sufficient.
However, something to be careful with in terms of international communication is the quality of translation. Videos often come with subtitles, so that internet users can watch the video without bothering their neighbours. A spelling mistake will jump out at these viewers and may affect the intended message. Get the help of professional translators so that you can provide your customers and future customers with the best quality.
A boost in trust, visibility, and understanding
Videos allow for trusting relationships
The main objective of content creation for a business is to create trust. According to the quality of the content that you make available online, you will manage to reach your future clients, who can then make sure that you are indeed experts in your field.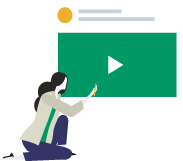 Videos allow for this trusting relationship to be vastly increased. Whether it's interviewing influencers, client testimonies, or even a filmed presentation of the manager, or the products, these videos instil trust among customers.
Videos improve your natural referencing system
Google's objective is to allow internet users to find what they want, whichever way they prefer. It is estimated that having a video on your website provides the viewers with a more pleasant experience and multiplies your chances of showing up on the first page of search engines by 50.
Acknowledging the growing importance of video in digital communication, Google bought back YouTube in 2006 (for 1.65 billion dollars).
Videos promote understanding
By showing and explaining at the same time, you are able to explain more complex ideas. This way, you can liven up the experience of product outlines and getting your message effectively across. Videos allow you to add a level of emotion, like joy, or nostalgia, and promotes the memory retention of your message.
It may come as a surprise that translation agencies deal with promoting online content publication videos. Why would we, as translators, favour a form of translation that excludes the very essence of our job, the written language? That's the thing, we aren't! As audio-visual translation also requires the translators to work with written language (subtitles).
All the attention is on videos right now, and many businesses today must consider incorporating them into their digital communication strategy. We want you to succeed in your international ventures, and videos are great tools to reach that goal. Videos also require text, either to compliment videos (titles or subtitles). We are here to help you in deciding on the perfect message to send to your international customers based on the country.
In the next video, we will show you how to use videos to reach more prospective clients.
At ACSTraduction, we deal with audio-visual translation on a daily basis. Do not hesitate to contact us, we would be delighted to help you!